It's always critical to keep your braking system in good working order. After all, your brakes are responsible for keeping you, other drivers, and pedestrians safe on the roads. In this guide, we want to cover one very important brake service topic: how to bleed brakes.
Savannah, Pooler, and Hinesville drivers may need to bleed their brakes to remove air bubbles from their brake lines. This tends to happen when the brake fluid gets low. Read ahead for an easy guide to bleeding your brakes, courtesy of the team at Peacock Hyundai Savannah!
Bleeding Brakes: The Setup
To bleed brakes, you'll need a few simple tools and appliances that can be found around the house. You'll also need one other person to help you out. Before you get started, make sure you have:
A Brake Bleeder Wrench or Combination Wrench that fits the bleeder nozzle on your vehicle
Fresh brake fluid
Clear glass jars
Clear plastic tubing (e.g., vacuum tubing)
Syringe or turkey baster
Car jack and jack stands
Before you start working on your vehicle, you'll need to get it in the air. Jack up your car and use the jack stands to keep it secure-never go underneath a car unsupported by jack stands. You'll be able to reach the brake bleeder screws more easily this way.
Add Some Fresh Brake Fluid
Bleeding your brakes is all about removing the old brake fluid (and any air bubbles). It follows, then, that you'll need new fluid to replace it. Just pop the hood and find the master cylinder reservoir for your brake fluid. You can consult your owner's manual if you have trouble finding it.
Next, draw out the old fluid with your syringe or turkey baster. Clean the reservoir thoroughly and refill it with fresh brake fluid. As you bleed your brakes, your brake fluid level will go down. Keep an eye on your fluid and top it off before it gets less than half empty.
How to Bleed Your Brakes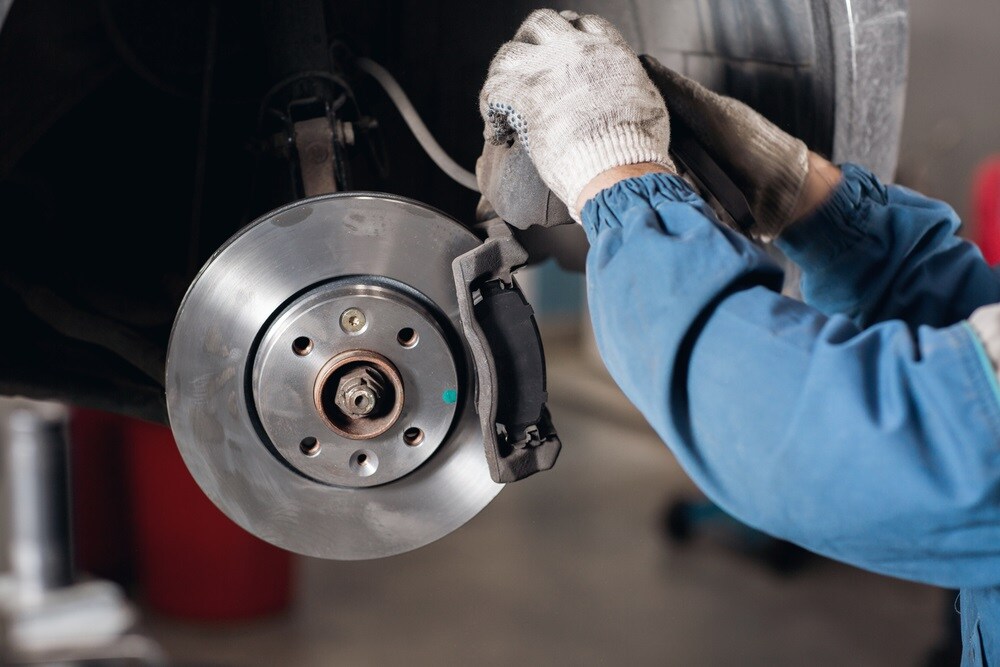 To bleed your brakes, you'll first need to find the brake bleeder screws behind each of your brakes. You can bleed them all, one by one. Loosen the first one with your wrench, but don't open it yet. Hook a piece of clear plastic tubing to the screw and put the other end in a jar with 2 to 3 inches of brake fluid.
Now, you'll need your friend to help you out. Have them get into the driver's seat and press and hold the brakes as if they were coming to a slow stop. Call down when you're ready for them to apply the brakes, and have them call down to confirm. Turn the screw a quarter inch to the left to open the valve.
Old brake fluid and air bubbles will move down the tube and into the jar. When the trickling stops, close the valve and call up to your helper. They can call up to confirm and release the brakes. Continue this process until you see clean fluid coming out. Repeat the cycle for each wheel.
Bleeding Brakes at Peacock Hyundai Savannah
We hope our guide for how to bleed brakes comes in handy. This can be a complicated process, especially if you don't have the right tools lying around. If you'd rather let the experts handle it, just make a service appointment at Peacock Hyundai Savannah.
Our auto technicians can bleed your brakes and ensure your brake lines are working correctly. You'll be ready for the roads of Hinesville, Pooler, and Savannah in no time!