Trying to decide whether to lease or buy a car? It's a big decision to make, with important ramifications down the line of your driving experience. When you have the information in front of you-and you're in touch with what you want from your next car-choosing is easy!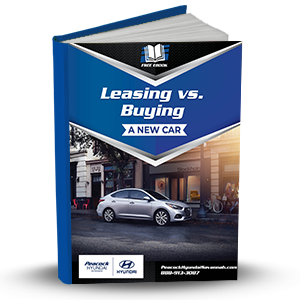 At Peacock Hyundai Savannah, we want shoppers near Pooler, Hinesville, and Savannah to experience just how easy that choice can be after reading this FREE eBook, containing all you need to know about Leasing vs. Buying a Car.
It covers a lot in little time, including:
Benefits and Drawbacks of Buying
Benefits and Drawbacks of Leasing
How to Choose between the Two
As you read, you'll become a true expert in buying and leasing! You'll walk away better equipped to choose the form of financing that meets your needs best.
Ready to get started? To get your free eBook, just fill out and submit the form on this page. You'll receive your guide to buying and leasing, courtesy of Peacock Hyundai Savannah, and you can start your research into the two forms of financing!
When you download this FREE eBook, you'll get an exclusive money-saving coupon towards your next car purchase at Peacock Hyundai Savannah!