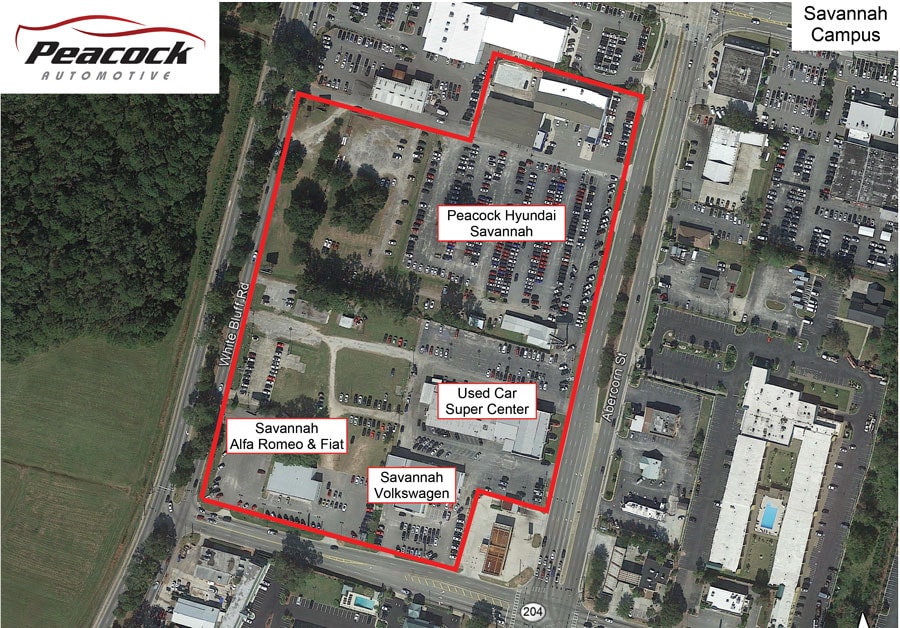 Peacock Automotive Announces Acquisition of Savannah Hyundai
(SAVANNAH, GA) Peacock Automotive has announced it bought the Savannah Hyundai dealership at 7011 Abercorn Street from previous owner Mark Medinger on Nov. 8. With the addition of the new Peacock Hyundai Savannah, Peacock Automotive has expanded its Savannah footprint to cover more than 15 acres with four conveniently located dealerships.
"We have owned the Hyundai dealership in the Bluffton, S.C., area since 2006," said Warner Peacock, President and CEO of Peacock Automotive. "We like the brand and like working with this manufacturer, which is known for offering a 10-year, 100-thousand-mile warranty. The Savannah Hyundai location is also perfect for us, as it is next to our other properties in Savannah."
Peacock Hyundai Savannah has approximately 30,000 square feet, including a service department, used car facility and new car facility. It's located next to Peacock Automotive's Savannah Volkswagen, Savannah Fiat and Alfa Romeo of Savannah dealerships. 
"This new acquisition is now part of the Peacock Automotive family, so customers will receive the same great treatment, service and selection that they receive at all of our other dealerships," Peacock said. "We want our customers to have the best experience possible when buying or servicing their vehicles, and Hyundai will embrace this as well. Our No. 1 goal is zero dissatisfied customers."
The Hyundai dealership was updated recently to meet the car manufacturer's corporate identity standards and to better serve customers. Current employees will stay with the Peacock Automotive group. Overall, the firm will add 60 jobs to its roster of about 600 people employed at its 20 automotive franchises in Georgia, South Carolina and Florida. The company is headquartered at the Peacock Auto Mall at the I-95 Hilton Head Island gateway near Bluffton, S.C.
Angelo Minichiello, who manages Peacock Automotive's other Savannah dealerships, has been named general manager of Peacock Hyundai Savannah. For more information about Peacock Hyundai Savannah, visit www.peacockhyundaisavannah.com. For Peacock Automotive information, visit www.peacockautomotive.com.
ABOUT PEACOCK AUTOMOTIVE
Peacock Automotive owns and operates 20 automotive franchises in Georgia, South Carolina and Florida and employs more than 600 individuals. The company's headquarters are located at the Peacock Auto Mall that covers 45 acres on U.S. 278, five miles east of Interstate 95 at Exit 8 near Bluffton, S.C. Thirteen brands are featured at the Auto Mall, including Audi, Chrysler, Dodge, Fiat, Genesis, Hyundai, Jaguar, Jeep, Land Rover, Porsche, Ram, Subaru and Volkswagen. Additionally, the company owns Peacock Hyundai Savannah, Savannah Volkswagen, Alfa Romeo & Fiat of Savannah and Jaguar Land Rover Columbia in Columbia, S.C. Its subsidiary, Peacock-Griffey Automotive, owns Peacock Subaru and Peacock Ford in Orlando, Fla. Peacock Automotive also owns and operates the Peacock Collision Center and The Wellness Institute in South Carolina.