Finding the perfect breakfast spot takes some work. From delicious, fresh foods to a friendly atmosphere, there's a lot that your ideal café must do to have you coming back again and again.
Luckily, we've taken some work out of the process by putting together this list of the best breakfast spots near Savannah, GA. They're a great place to start if you're looking for a family-friendly environment and freshly prepared quality food!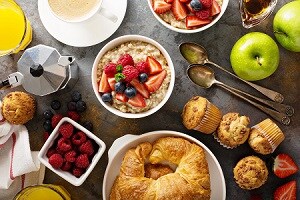 For a little southern hospitality with your breakfast, Café M is the perfect place to visit. Wander down to historic downtown Savannah, and you'll find this authentic Parisian café nestled along Bay Street. Among the quaint French décor and traditional music, you'll find a great place to relax and enjoy good food.
From savory French pastries, pies, and macarons to quiches and sandwiches, you'll have plenty to choose from as you sit down to eat. Enjoy your taste of Paris with a coffee, tea, or even a glass of excellent French wine!
What drives Savannah locals to Goose Feathers Café? This cozy café has an ambiance all its own, blending the vibes of Lower Manhattan's urban Greenwich Village with shades of the Left Bank in Paris. That's to say nothing of their wholesome cuisine and delectable fresh-baked breads and pastries.
Step into this fusion of different times and places for a warm bagel, a smooth butter croissant filled with chocolate or sweet preserves, or even homemade oatmeal with fresh fruit. There's not an item on their menu that doesn't go great with their delicious freshly roasted coffees and organic teas!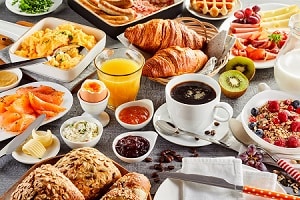 You probably won't be surprised to find several egg-based breakfasts at Two Cracked Eggs Café, from eggs benedict to Florentine benedict to the country-style eggs. Each breakfast comes served with "two cracked eggs" each, true to form.
Of course, there's a lot more on the menu than just eggs. Try a delicious Belgian waffle or tuck into some Texas French toast, prepared with homemade cinnamon vanilla batter. There's something for everyone at this southern-style breakfast café!
Choose Your Next Breakfast Spot
The next time you need a hearty meal to start your day, you'll want to check out these three cafés. They're some of the best breakfast spots near Savannah, GA, and you can check out their full menus and discover more about them on their websites!